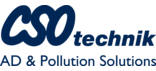 | | |
| --- | --- |
| Scrubber type | Packed bed / tower scrubbers |
The Kombi-Skrub ammonia scrubber is used to remove ammonia from gas streams.
Ammonia in gases or exhaust may need to be removed to protect subsequent processes. Ammonia is harmful to biological processes, such as in biofilters used for odour control.
The system utilises spherical media to increase mass transfer, while pH control ensures effective removal and optimises chemical consumption.
Our IBC Reception Station is the ideal supplement to ensure a secure chemical dosing.
Benefits:
Units in a range of sizes to suit customer needs
Adapts to variable rates instantaneously
High ammonia abatement achievable
Optimised chemical consumption
10-year media life
Small footprint
Related entries
CSO's high-density polyethylene IBC container can be used for many industrial liquid handling and dosing applications. The reception station has an integral bund to capture spills, an angled platform to ensure the IBC is completely emptied, a quick-action hose connection, sight level, and fork lifting points to enable easy relocation on site...

Product, 13 February 2018
More gas scrubbers by CSO Technik
View all
Also by CSO Technik
More products on ENVIROPRO
CSO Technik address and contact details
CSO Technik Ltd
Chequers Barn
Chequers Hill
Bough Beech
Edenbridge
TN8 7PD
Tel: 01732 700011
Fax: 01732 701050
View on map