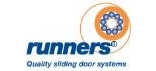 Conveyor type
Overhead conveyors

Applications
Material handling
Production lines
Spraybooths

Open / enclosed
Open

Fixed / mobile
Fixed

Accessories
Guide rails
Turntables

Multirail™ is an overhead runway system developed to provide effective runway solutions for hundreds of applications including spraybooths, material handling, production lines and abattoirs.
Multirail™ is ideally suited to more complex layouts which may incorporate turntables and junctions.
A wide range of hangers and support brackets makes multirail™ a very flexible option for virtually any application.
Heavy and bulky items are moved around the production environment quickly and effortlessly, minimising handling time.
Key features and benefits
Improve operational efficiency
Limitless configurations possible
Simple to design and install
Economical, time saving investment
Virtually maintenance free
Smooth running in operation
Related entries
Runners Sliding Door Systems

In early 2017 Greenoak, an Oxfordshire-based construction and joinery business, installed a multirail™ overhead runway system supplied by Runners Sliding Door Systems in its spray booth. The spray booth in their workshop is approx 20 x 8m at the widest point. Greenoak previously used a turntable to dry all their spayed timber work and now use a multirail™ system that allows the items to hang...

Projects, 05 December 2017
More conveyors by Runners Sliding Door Systems
View all
Also by Runners Sliding Door Systems
Runners Sliding Door Systems address and contact details
Runners Sliding Door Systems
Signal Hill
Lenborough
Gawcott
Buckingham
MK18 4BU
Tel: 01280 822288
Fax: 01280 813024
View on map