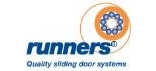 Conveyor type
Overhead conveyors

Applications
Foods (raw materials)
Manufactured components
Production lines
Spraybooths

Open / enclosed
Open

Fixed / mobile
Fixed

Accessories
Guide rails

SMARTSPRAY™ is used where a simple overhead runway system is required for simple spraying operations in most small or medium size workshops.
Track lengths up to 5m
Radius bends to 1.5m
Weight capacity 160 or 220kg per hanger
Suitable for most spraying operations
Saves space, time and effort
Reduces overall spraying times
Dimensions
With a range of straight track lengths from 1 to 5m, and bends with a radius between 0.8 to 1.5m, bespoke systems can easily be created to fit clients' workshops exactly.
Operation
Items for spraying can easily be hung from the overhead track and moved effortlessly round the work area suspended from the supplied hangers which have a capacity of 160kgs each (optional 220kg 4 wheel hangers also available).
No need to lift and carry items around the workshop to stack for drying - they can be left on their hanger and then removed when dry.
Layout options
The SMARTSPRAY™ basic kit can easily be expanded or adapted to suit other requirements by adding extra lengths of straight or curved track and connectors, as well as alternative hangers for other applications.
More conveyors by Runners Sliding Door Systems
View all
Also by Runners Sliding Door Systems
Runners Sliding Door Systems address and contact details
Runners Sliding Door Systems
Signal Hill
Lenborough
Gawcott
Buckingham
MK18 4BU
Tel: 01280 822288
Fax: 01280 813024
View on map