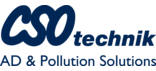 Sector
Utilities

Project type
Refurbishment

Services provided
Design
Installation
Commissioning

Year completed
2013

Project location
East Midlands

Client
Severn Trent

Contractor
MWH Global

Products used
Lackeby shaftless screw press

Context
Severn Trent had installed an MBR plant that was suffering blockages and had high levels of maintenance and high operational costs. The existing screens had a 3mm perforation but were still allowing too much through to the MBR's.
Products supplied
CSO's 1.5mm perforated drum screens were installed and a system was needed to remove the solids and convey them into a skip.
CSO designed and manufactured 1 No Lackeby Shaftless screw press to reduce the bulk of the screenings and convey them to a skip.
This was able to remove and compact solids greater than 1.5mm in two directions from the drum screens into a waste disposal skip.
Outcome
Successfull reduction of the bulk of waste and depositing into a skip.
Project data
Model: SSP 260
Capacity: 3 m3/hr
Dry solids, out: 25%
Related entries
The Lackeby shaftless screw press is designed for heavy duty and is suitable for the transport and dewatering of difficult material: shaftless spiral; robust design; simple inspection via a hatch in the press unit; brush-equipped spiral at the drainage; flexible design of the press unit; variable resistance on the outlet shutter. The Lackeby...

Product, 13 February 2018
Also by CSO Technik
CSO Technik address and contact details
CSO Technik Ltd
Chequers Barn
Chequers Hill
Bough Beech
Edenbridge
TN8 7PD
Tel: 01732 700011
Fax: 01732 701050
View on map