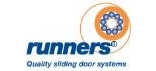 04 May 2018
A new hanger option is now available for the multirail™ overhead conveyor system from Runners Sliding Doors.
multirail™ is designed to handle a wide range of materials with a hanging runway system for a variety of applications, including spray booths, production lines, abattoirs and general material handling.
It now has a newly designed friction rotation hanger (Part No. 88 419).
Features
4-wheel hanger providing stability
Self-lubricating bronze friction plate
Rotating plate has 3 hanging points
150kg capacity
Benefits
Eliminates unwanted rotation of windows or materials due to spray gun blast
Rotating plate can be positioned at desired angle
Improved weight capacity
Friction level of rotating plate is adjustable making it suitable for any different panel, window or door size
Related entries
Runners Sliding Door Systems

Multirail™ is an overhead runway system developed to provide effective runway solutions for hundreds of applications including spraybooths, material handling, production lines and abattoirs. Multirail™ is ideally suited to more complex layouts which may incorporate turntables and junctions. A wide range of hangers and support brackets makes...

Product, 04 April 2018
Also by Runners Sliding Door Systems
Runners Sliding Door Systems address and contact details
Runners Sliding Door Systems
Signal Hill
Lenborough
Gawcott
Buckingham
MK18 4BU
Tel: 01280 822288
Fax: 01280 813024
View on map