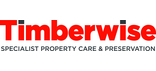 The Envirowise radon mini sump system works by creating low pressure under the floor, reducing the ingress of radon gas into the building.

It is primarily suitable for houses with solid floors but can also be used in houses with suspended floors, depending on their construction.

It uses an electrically powered sump fan that extracts radon gas from underneath floors and vents it into the atmosphere via a pipe.
Timberwise address and contact details
Timberwise (UK) Ltd
1 Drake Mews
Gadbrook Park
Northwich
CW9 7XF
Tel: 01606 569803
View on map
Vacuum pumps - products from other companies
Vacuum pumps - all companies