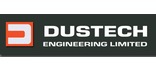 Product
Pulse jet filters

Suitability
Exhaust gases
Fumes
Industrial gases
Process gases

Modular pulse jet filters incorporate standard components, giving a flexible line of products. Types range from unit collectors to large custom-engineered baghouses.
Housings are available in many configurations to suit application needs. Dirty-side internal or clean-side access arrangements are possible, and can often be provided with full-height walk-in.
Pulse jet filters use proven cleaning methods - a variety of synthetic felted media options is offered to match the physical, chemical and temperature conditions of each application.
The company offers a complete turn-key service. The right solution is found objectively for each client, without the risk of bias towards any particular product.
Since 1977 Dustech Engineering has specialised in the design, development and installation of industrial air pollution control equipment.
More air / gas purification by Dustech Engineering
View all
Also by Dustech Engineering
Dustech Engineering address and contact details
Dustech Engineering Ltd
162 Chiltern Drive
Surbiton
KT5 8LS
Tel: 020 8399 9991
Fax: 020 8390 2004
View on map