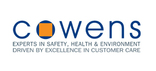 Cowens Ltd manufacture and supply a range of containment booms as part of their range of environmental equipment for the prevention and treatment of oil and chemical spills.
For open water where wind, currents and waves are present, the air buoyancy chain ballast curtain booms are best. They can confirm to swells and their circular cross section makes them resilient in winds and water currents. Their smooth profile makes oil recovery and boom cleaning easy. An inflator is required. Booms can be stored on boom reels and inflated by section.
For protected waters and for emergency fast deployment, foam buoyancy chain ballast fence booms are best. They require no preparation and form a containment area immediately. Resistant to punctures, they can be left on the water for a long time.
For the ultimate protection, Cowens' pod boom is indestructible. With 10mm high tensile belting, massive reserve buoyancy pods and stainless steel fixings, this is the ultimate permanent boom. Ideal for debris as well as oil containment, the booms has been known to hold back barges off weirs, and can take a lot of abuse. For example, for intertidal waters, the pod boom can be beached twice a day on rocky shores without damage.
Other variations include a water ballast air buoyancy 3 chamber boom for quick deployment intertidal use on sand or mud. Cowens' patented pinch boom creates a seal between jetty and ship without the need for boats or magnets to protect during bunkering operations.
Also by Cowens
Cowens address and contact details
Cowens Ltd
Ellers Mill
Dalston
Carlisle
CA5 7QJ
Tel: 01228 710205
Fax: 01228 710331
View on map