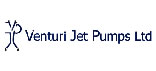 Type
Jet / venturi mixers

Media handled
Foodstuffs
Process liquids
Sludge / slurry / sewage
Wastewater / effluent

Applications
Agitating
Blending
Mixing

Liquid jet eductors are used for lifting, pumping, mixing and agitating liquids, as well as handling granular solids and slurries.
Typical applications:
Emptying sumps or bunds
Pumping and mixing operations
Dewatering barges & boreholes
Introducing additives or colourings into liquids
Continuous blending
Pumping sand and filter clay or activated carbon
Tank mixing and blending
Benefits
Low cost – units are small in relation their performance and cost is correspondingly low.
Self priming – eductors are self-priming and operate in continuous or intermittent service.
No moving parts – eductors are exceedingly reliable with no moving parts to wear.
Corrosion and abrasion resistant – constructed from practically any workable material, eductors can be made highly resistant to the process conditions.
Safe – eductors can be used in hazardous locations where electrically operated alternates would require explosion proofing.
Versatile – eductors of various types can handle granular solids, semi-solids, and slurries without contamination.
Perform double dutye– eductors mix motive and suction liquids intimately while pumping against a counter pressure.
Easy to install – connections can be made to suit piping requirements.
Also by Venturi Jet Pumps
Venturi Jet Pumps address and contact details
Venturi Jet Pumps Ltd
Venturi House
Edensor Road
Longton
Stoke-on-Trent
ST3 2QE
Tel: 01782 599800
Fax: 01782 599009
View on map